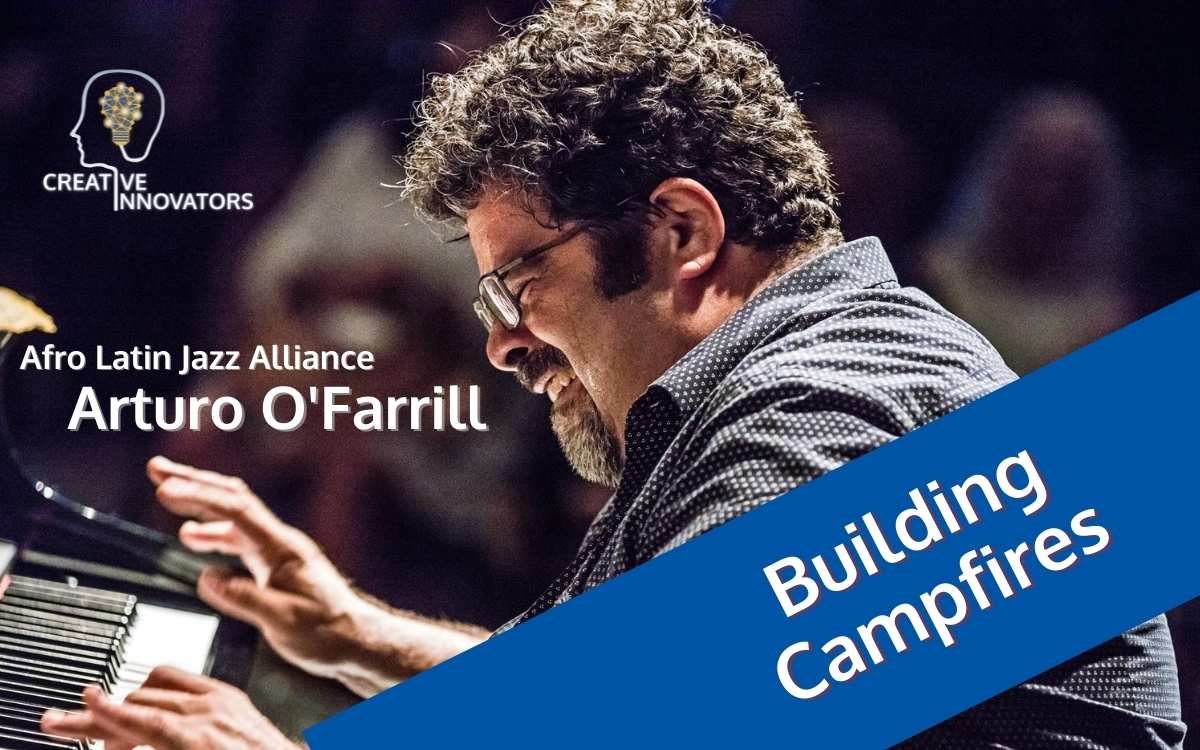 Question
:
How can you build campfires, mixing music and social activism?
Guest:
Arturo O'Farrill, Founder, Artistic Director, Afro Latin Jazz Alliance; Professor, Global Jazz Studies, The UCLA Herb Alpert School of Music, Associate Dean for Equity, Diversity and Inclusion
Arturo O'Farrill builds campfires and connects music, activism, and community to build momentum to change his areas of passion in the world — especially in New York. He shares with us the many projects he is working on, his Grammy-award winning music melding and digging beyond jazz and Latin music roots, his strong beliefs about Cuba and US foreign policy, and his new projects in housing and music in Spanish Harlem. He talks about the impacts on artists with the Virtual Birdland project, which garnered a Grammy nomination, and his work with Dr. Cornel West with Four Questions. He recalls his desires to conduct back at age 6 and breaking into his father's record collection and finding Seven Steps to Heaven, locking in his passion for music. He states with bold examples how "Happiness is marrying your conviction with your art," which frames most of his adult work. He speaks the vigor about the results of unbridled capitalism — and does not mince words.
Our Guest
Arturo O'Farrill
, pianist, composer, and educator, was born in Mexico and grew up in New York City. Arturo's professional career began with the Carla Bley Band and continued as a solo performer with a wide spectrum of artists including Dizzy Gillespie, Lester Bowie, Wynton Marsalis, and Harry Belafonte. In 2007, he founded the Afro Latin Jazz Alliance as a not-for-profit organization dedicated to the performance, education, and preservation of Afro Latin music. An avid supporter of all the Arts, Arturo has performed with Ballet Hispanico, Ron Brown's EVIDENCE Dance company, and the Malpaso Dance Company, for whom he has written several ballets. Arturo's well-reviewed and highly praised "
Afro-Latin Jazz Suite
" from the album
CUBA: The Conversation Continues
(Motéma) took the 2016 Grammy Award for
Best Instrumental Composition
as well as the 2016 Latin Grammy for
Best Latin Jazz Recording
. In addition, his composition "
Three Revolutions
" from the album
Familia-Tribute to Chico and Bebo
also received the
Best Instrumental Composition
Grammy in 2018. Arturo's 2020 album, "
Four Questions"
won yet another Grammy award in 2021. Arturo has been a Steinway Artist for many years and is now a Blue Note Records Recording Artist.
Mentioned Links
Timecodes
00:03 Introduction and current work
01:24 Hiring a new bass player with recordings – changing the system he was handed
02:29 ALJA and Building Campfires
04:18 Affordable Housing in Spanish Harlem
07:42 2022 Grammy-nominated songs and their importance to him
08:02 Virtual Birdland with 18 extraordinary artists
09:29 Malpaso and his second Grammy nomination
09:46 Cuba's ongoing struggles
10:30 Grammys as fuel for Foundation support
11:01 Four Questions with Dr. Cornel West
13:15 Getting Started – pretending to conduct an orchestra at age 6
14:51 How his parents met and his early life
16:32 Breaking into his father's record collection and Seven Steps to Heaven
17:24 Happiness is marrying your conviction with your art
18:20 When Arturo started taking heartstances in the world
18:50 The Drum and the Noise — drums as symbols of gentrification
19:52 Ramarley Graham, Keith LaMar, and music in mass incarceration
21:48 Getting in trouble: music reflecting back on the world – trouble and liberation
22:13 "You don't have a right to say this"
26:34 More on Cuba
30:08 Hard decisions and being an administrator
31:31 You need to learn to say no
32:16 His songs – extraordinary musicians — and Accepting Chaos
34:33 Succession and the next voice of leadership
36:05 How to reach out
37:29 Loving Los Angeles and Culver City's funkitude