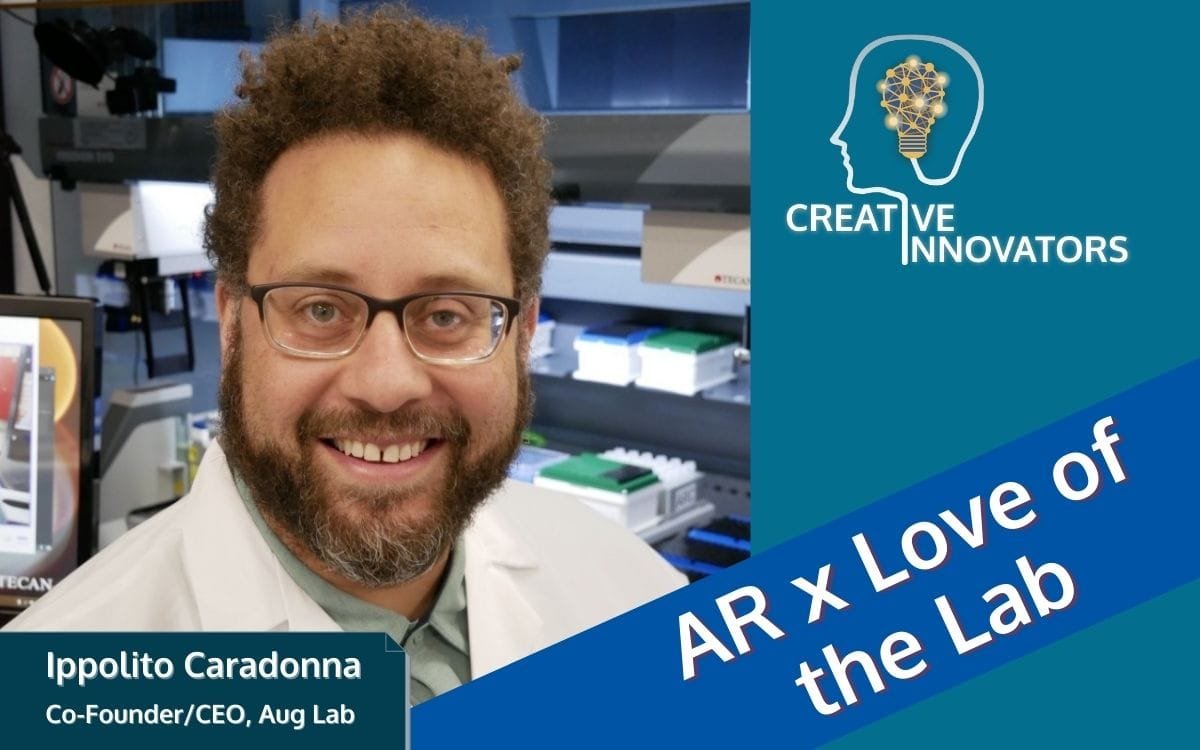 Question:  How can we use Augmented Reality to enhance the practice of collaborative biology?
Guest: Ippolito Imani Caradonna, Co-Founder/CEO, Aug Lab; Director, HoloPractice
Ippolito Caradonna mixes his love for biology with his background in film and passion for assisted research.  He is co-founding Aug Lab, an AR software interface for laboratory production that helps scientists traverse the complex topography of a lab.  He shares with us how he first fell in love with molecular biology through gene regulation.  His journey has not been a straight line.  After starting in film at Loyola Marymount, he became a social worker for 6 years in Santa Clara County, near where he grew up in Gilroy, CA.  He has had, what we call postcard moments in this show, where he dropped out of film school.  He went back to school, fascinated by "junk DNA," the extra DNA not being used.  He melded theater, music, and other areas of art in parallel with lab studies.  He shares how he bugged his now-parter, Christian Lafayette, to work with him on an augmented reality solution.  He shares his plans for Aug Lab in designing with other lab professionals how do we augment the lab experience vs changing it or distracting from their work.  He ends with his own values of making lab work understandable and accessible for young professionals exploring STEM careers and hopes that Aug Lab will make training easier to explore.
Our Guest
Ippolito Caradonna is a passionate molecular biologist with over 10 years of experience in academic and industry labs. He co-founded Aug Lab, an AR software prototype that spatially projects a projected environment for lab and collaborative work.  He has over two years in the Medical XR (mixed reality) arena as a mentor via the Black Technology Mentorship Program. He is also the director of a HoloPractice – a private incubator of technologists and health & wellness professionals building experiential platforms.
Giving back to his community is one of his most important values and his commitment to authentic personal relationships is the cornerstone of his professional foundation.  He is passionate about shifting the paradigm in the laboratory from the 2D protocol-driven lab operation to a human-centered technology transfer that uses a digitally projected shared interactive environment.
Mentioned Links
HoloPractice.com
Twitter: https://www.twitter.com/theAugLab
Timecode
00:00 Introduction
01:03 HoloPractice – What is it?
02:03 Molecular Biology
02:47 Aug Lab – What is it?
05:09 Falling in Love with the Lab and Biology
06:12 Leaving Film for Social Work
12:39 Liquid handling robot as a gateway to AR
14:13 Pursuing his co-founder
26:22 Envisioning science careers