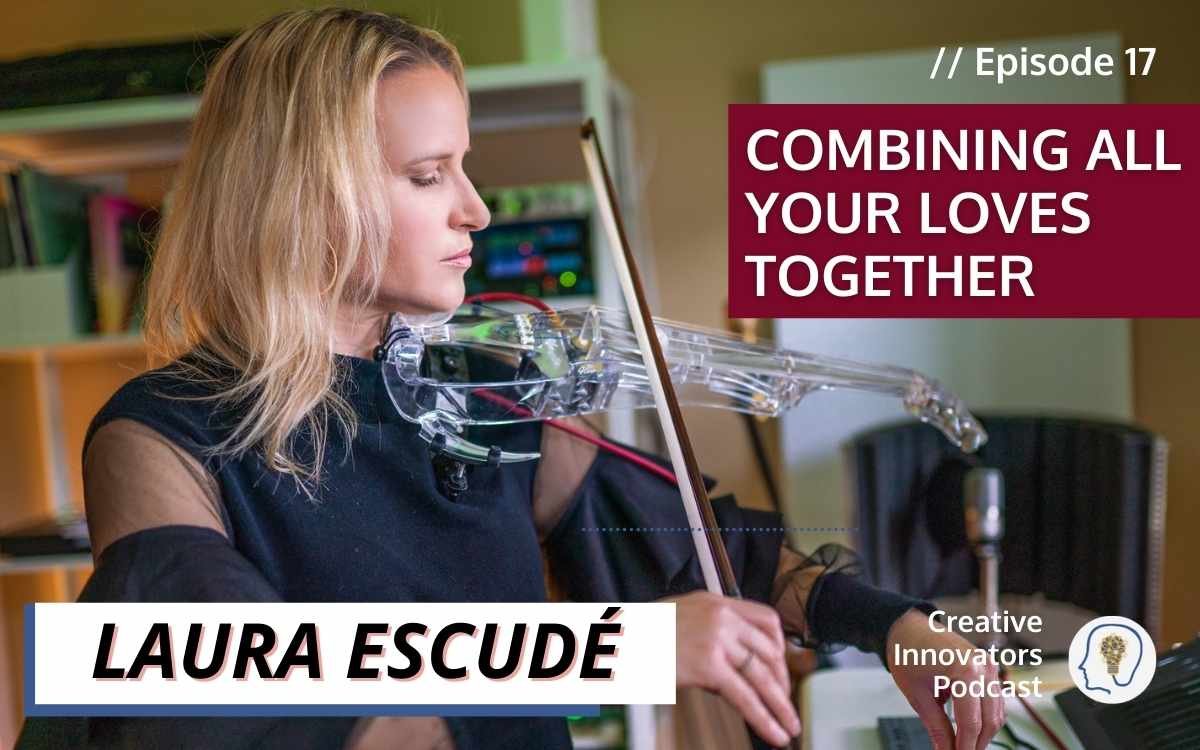 In this episode, Laura Escudé takes us on her journey from violinist to adventures in Los Angeles as a seat filler for TV shows from Craig's list to market research to other one-off jobs. . . until she becomes a tech support staffer at M-Audio because of problems she had with her own keyboard.  For listeners who are inspired by linear journeys, this is not one.  Instead, Laura was launched from being laid off as the first Ableton Certified Trainer.  An email got her working for Cirque du Soleil in playback.  A phone call from all of her Ableton visibility brought her to Kanye West's audio engineer and then years of touring.  Until it wasn't — and she shares the story of how in 2017 she rebuilt her career about teaching and inspiration in audio engineering around "transmuting" creators – "to move from one form of energy into another."  Enjoy her story of building a global community of artists and creating new online programs ahead of the current virtual learning world.  And enjoy her stories of what she now has built with the Transmute Accelerator and Transmute Academy.
Guest: Laura Escudé (Fka ALLUXE), Future Classical Artist Blending Music, Tech, And Consciousness
Laura Escudé is the creator of The Transmute™ Accelerator, Founder of Electronic Creatives, and an Ableton Certified Trainer since 2008. To sum up, Laura Escudé is a Future Classical artist blending music, tech, and consciousness. Synthesizing her skills as a classically trained violinist and technical prowess as an avant-garde electronic producer, Escudé infuses neo-classical & sleek futuristic style with raw emotion elicited with her musical machines.
Based in Los Angeles, Escudé is an artist, innovator, entrepreneur, and live show designer with a deep understanding of complex technology, a profound passion for music and art, and a unique talent for fusing the two. Career highlights include performing in the GRAMMY Premiere band, programming and designing shows for Kanye West from 2009-2017, opening for Miguel on his 2015 Wildheart tour, and building a thriving international business populated by top-tier professionals.
But while Escudé's life and work are dynamic, her ultimate goal is simply to inspire.
As an artist, Escudé executes this mission through music. She's released myriad albums, singles, and EPs under the name ALLUXE, synthesizing her skills as a classically trained violinist and her prowess as an avant-garde electronic producer. Now making music under her own name, Escudé released the Transmute EP, her most intimate work to date, capturing the sound and feel of a woman who's examined the darkest parts of herself and come out the other end transformed. Escudé's live performances are known for their sleek futuristic style and the raw emotion she elicits from her musical machines. She's done official remixes for artists, including M83 and Poliça, with her violin playing featured on albums by Big Grams, Kanye West, Jay Z, and many more.
Technology is a second language for Escudé, who became the world's first Ableton Certified Trainer in 2008. In 2012, she founded Electronic Creatives, using her skills to hire and train programmers and playback engineers for artists including Logic, Ariana Grande, The Weeknd, Big Sean, Charli XCX, and the Yeah Yeah Yeahs. Electronic Creatives has hosted several playback engineering training programs over the years, with the latest being MASTERTRACK Worldwide.
These creative applications of technology have made Escudé one of the world's most in-demand live show designers. She's brought massive productions to life for artists including Kanye West, Jay Z, Bon Iver, Missy Elliot, Herbie Hancock, and television megabrand American Idol. Escudé toured extensively with these shows, collaborating with artists to create fresh, thrilling experiences for audiences worldwide.
It was while on tour that Escudé learned the challenges of staying healthy on the road. In 2016, tour burnout landed her in the hospital. She was exhausted, stressed, and not sure how to get better. It was a low point that forced Escudé to take a break from work and focus on her health. This physical, mental, emotional, and spiritual process involved letting go of unproductive habits and thought patterns, facing her fears, and giving up aspects of her life that didn't serve her. Escudé was soon not just better, but for the first time in her life truly thriving.
The experience inspired Escudé to help others, particularly live performers, optimize their own health and well-being. In 2017, she launched The Transmute™ Retreat, a week-long workshop incorporating yoga, meditation, nature, live performance workshops, and community performances. In 2019, she launched The Transmute™ Accelerator online course to help artists accelerate their live performances using technology, in addition to The Transmute™ Society designed for graduates of The Transmute™ Accelerator to continue their growth in artistry and business. The Transmute™ Accelerator course happens quarterly throughout the year, with launch events featuring top industry experts, such as Suzanne Ciani, The Album Leaf, and Sudan Archives.
With all Escudé has achieved in the realms of music and technology, it's clear why she's been called "the best in the world at this job." Escudé continues to propel forward this three-tiered platform of Future Classical music artistry, tech, and consciousness and it just keeps getting better.
Mentioned Links
Transmute Academy: https://www.thetransmuteacademy.com